picanto 2017
A very small car designed largely by European cars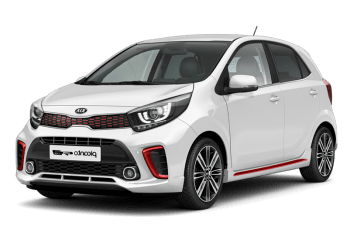 Undoubtedly, the Picantouo is built for use within the city and uses a 1250cc 4-cylinder engine that has a relatively old engine, but has just returned its test.
One of the Kia Picanto options is a four-speaker audio system with a capacity of 6 discs, a USB port, MP3 playback and iPod connectivity, as well as a control of the audio system on the steering wheel.
One of the weak points of the car is the 200-liter cantilever, which is also small enough to fit a suitcase, with the rear seats folded up to 600 liters, and the spare tire is also under the back of the trunk.
This 16-valve Korean engine produces a maximum power of 84 horsepower at around 6,000, which is a reasonable figure for a small car like Picanto.
According to the report, Picanto's combined fuel consumption is 5.5 liters per 100 kilometers and its fuel tank is 35 liters.
It should be noted that Picantto has acceptable power for inter-city routes, although at high speeds, the engine noise is scratched by increasing engine speed.
The Picanto's disc brakes have disc brakes on all four wheels, along with ABS and EBD, while some rivals still use bow brake brakes for rear wheels.
According to the report, the brake pedal is extremely fast, and it requires time to get used to it. Picanto also has a HAC.

Picanto is priced at around 75 million tomans in the cheapest Korean supply in the Iranian market, with a second-hand model of $ 50-55 million available.
Technical Details
| | |
| --- | --- |
| Differential | Front |
| Cylinder | 4 |
| Number of valves | 16 |
| Horse horse | 6000/84 |
| Minimum engine torque | 4000/120 |
| Height | 1480 mm |
| Tire size | 175/50R15 |
| Maximum speed | 163 km/h |
| Acceleration | 13.4 |
| Fuel | 5.3 |
| Tank capacity | 35 |
| Brakes | ABS - EBD - ESP |
| window | Electric |
| lamp | Automatic on and off - Front and rear fog |
There are currently no sales conditions for the selected car
Some text some message..